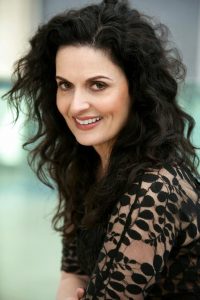 Gigi Guizado fell in love with the performing arts at a young age, and began acting at San Rafael High School where she won a scholarship to San Francisco's New Conservatory Children's Theatre Center, hosted a radio show, and appeared in the classic 80's rock video "Sister Christian" by Night Ranger. She continued studying drama at College of Marin and UCLA, earning her BA in Drama at San Francisco State University, and later, taking classes at The Actor's Centre in London, UK.
Gigi's regional theatre credits include Marin Theatre Company, San Jose Stage Company, Center REPertory Company, and The Marsh. Las Vegas theatre credits include Vegas Theatre Company, Las Vegas Little Theatre, The Space, Majestic Repertory Theatre Company, A Public Fit Theatre Company, The LAB LV, and The Asylum Theatre. In 2018, Gigi was nominated for two Broadway World Regional Awards for her portrayals of Woman in "The Father" and Victoria in "The Motherf**ker with the Hat". In 2019, she was nominated for a Las Vegas Valley Theatre Award for her bilingual portrayal of Mrs. Webb in "Our Town". Gigi's most recent stage performances were "The Vagina Monologues" at The Space in Las Vegas, and "I Will Wipe Men Off the Face of the Earth" in Out of the Wings Festival at Omnibus Theatre, London.
Gigi plays "The Boar" in the new season of the acclaimed audio drama, "We're Alive: Descendants". Best known for her independent film roles, Gigi's feature film debut placed her in the cult favorite "Colma: The Musical" working with director Richard Wong and screenwriter/composer H.P. Mendoza. Guizado's breakout performance in "I'm in Love with a Church Girl" found her in heavy rotation on BET playing opposite Jeffrey "Ja Rule" Atkins and Adrienne Bailon, and earning an international following.
Gigi's original playwriting credits include "Letter to a Clone Manufacturer" (English PEN and the National Centre for Writing International Translation Day Official Selection) and "Confessions of a Sharp Dressed Woman" (The Marsh Studio). Her poetry won a Merit Award from Nevada Humanities; has exhibited in galleries throughout Nevada; has been published by Adelaide Literary Magazine, The Emerson Review, Rogue Agent, Salamander Ink Magazine, The Bluebird Word, Poet's Choice, and is forthcoming from 128 Lit. Her translations of plays by Colombian radio pioneer Rafael Guizado have had staged readings in Out of the Wings Festivals in London, and been produced in Las Vegas by The Asylum Theatre.  Excerpts of Gigi's translations are can be found online at Performing International Plays, Another Chicago Magazine and Asymptote Journal.  Her most recent translation, The Therapist by Peruvian playwright Gabriela Yepes is published by Inti Press.