From the SFGate.com:
MILL VALLEY – The striptease is the showstopper in the second act of the Marin Theatre Company's revival of "Pal Joey," even though the stripper doesn't remove a stitch of clothing. If only the rest of Albert Takazauckas' upbeat and generally savvy production were as dynamic, the show that opened Tuesday would be more than a qualified success.
OK, "Zip," the strip number, is always a showstopper if half decently performed. That's the way Richard Rodgers and lyricist Lorenz Hart wrote it – a hilarious spoof on the intellectual pretensions of Gypsy Rose Lee, musing about Picasso, Schopenhauer, Dali, Stravinsky, Saroyan et al. as she mimes doffing her duds. And that's the way Karen Hall performs it, belting Rodgers' burlesque melody in a vibrant voice as she shakes, shimmies and poses provocatively through the funny faux strip.
Unfortunately, few others in the cast Takazauckas has put together have the vocal chops to do justice to Rodgers' score. (A prime exception is Kirk Herring, whose mock-earnest and pitch-perfect delivery help make the nightclub extravaganza "The Flower Garden of My Heart" a beguilingly comic success, along with Cassandra Carpenter's deliriously imaginative floral chorus-girl costumes.)
The performers are engaging. Takazauckas' staging is snappy and smart, and Richard Gibbs' choreography makes delightfully inventive use of jitterbug, Charleston, soft shoe and other dance idioms, energetically performed by the ensemble. But the distinct pleasure of hearing the songs in their intended unamplified form is marred by the limitations of most of the singers.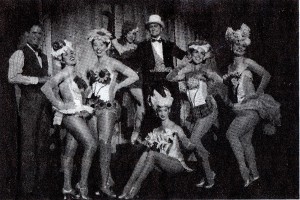 It's too bad, for "Pal Joey" is eminently revivable. The script, adapted by John O'Hara from his New Yorker short stories (and doctored by original producer George Abbott), is as hip, sharp and bracingly unsentimental as it was when it premiered in 1940. And much more in tune with today's moral attitudes.
Critics were put off then by the cynicism of O'Hara's bought-love story between a callous two-timing gigolo, Joey (originally played by Gene Kelly), and the street-smart, older married woman, Vera, who buys his services and bankrolls his nightclub career. Though
"Joey" ran a respectable year, it didn't achieve full success until it was revived on Broadway in '52. Even then, its story was still too hot for Hollywood, which bowdlerized both book and lyrics for the Frank Sinatra-Rita Hayworth-Kim Novak movie in '57.
And the score is simply wonderful. One of the last of what had been Rodgers' lifelong collaboration (from the age of 16) with Hart, it isn't as brimming with future standards as most of Rodgers' later shows with Oscar Hammerstein II. Only "I Could Write a Book" and "Bewitched" (you know:
"bothered and bewildered" ) have become classics. But every song is a bright, catchy melody bristling with Hart's astonishingly clever, breezy lyrics.
As co-produced by MTC and Allegro Theatre Company (a new production group founded by Takazauckas and Gibbs), the score percolates along nicely at the hands of musical director-pianist David Shepard and his brassy seven-piece band. Ronald Krempetz's set is an appropriately tawdry Chicago nightclub stage, circa late '30s, garishly lit by Chris Guptill and supplemented with cartoonish boudoir units and festooned with drapes as the story progresses.
Rudy Guerrero is a genuinely likable cad of a Joey with his boyish good looks and upbeat self-promotional enthusiasm. He throws himself into his nonstop lies with an eager unawareness of how inept his stories are and pursues every skirt in sight with engaging insouciance. There's nothing personal about it: Sex is either conquest or pure business to Joey.
He dives into each song with the same engaging earnestness, but with somewhat less success. Though he hits all the notes, his voice hasn't the depth to put across "I Could Write a Book" – the line he uses on Linda (Casondra Campbell), the sweet young thing who falls for him. Nor is Campbell a strong enough actor or singer to hold up Linda's part in the love triangle that ensues.
Kathryn Crosby seems to be having a field day with the role of Vera, a no-nonsense social matron with enough money to get her way, a richly varied wardrobe and a lively libido. She hasn't the range to put across the cynical "What Is a Man," but she revels in "Bewitched," half-talking, half-singing, shamelessly mugging her way through Hart's delicious paean to reawakened lust ( "Perplexed again / Thank God I can be oversexed again" ).
The six-woman chorus, led by a saucy, vibrant Julie James, is bright, sassy and dynamic on one lively song and break-out, energetic, high-kicking dance routine after another. Will Marchetti is a wry, gruff nightclub manager and Howard Swain is superb as a smarmy-tough con man thug who talks faster than he thinks.
It isn't quite enough. As the 2 1/4-hour show works through its second act – especially after the dynamism of "The Flower Garden" and Hall's "Zip" – you want more musical skill than Guerrero and Crosby can deliver in their comic tribute to shacking up on "In Our Own Little Den (of iniquity)." And more musical drama than Crosby and Campbell manage to generate in the Vera-Linda offbeat showdown, "Take Him."
It's an ambitious and often rewarding opening for MTC's season and a promising outing for the fledgling Allegro. But this "Joey," though it may bother and bewilder, doesn't bewitch.
Theater Review "Pal Joey'
* WRITERS John O'Hara, Lorenz Hart
* COMPOSER Richard Rodgers
* DIRECTOR Albert Takazauckas
* CAST Rudy Guerrero, Kathryn Crosby, Casondra Campbell, Will Marchetti, Julie James