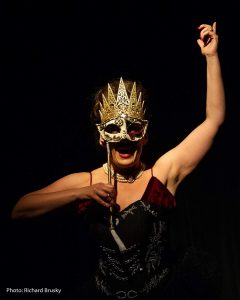 ¡No te lo pierdas! Don't miss it! For the first time in its history, the oldest theatre in Las Vegas is offering a Spanish language production as part of its annual Las Vegas Las Vegas Fringe Festival Festival.
I'm proud to play the title role in La Reina Mab and honored to share the stage with an all Latino cast.
Thujones Theatre Tribe producer Oliver B. Jones adapted Shakespeare's classic tragedy Romeo and Juliet, retelling the story in reverse from their death to their love at first sight, as if their lives were flashing before their eyes. Marcelino Melendez Pelayo's Spanish translation of Shakespeare enabled Jones to realize his unique vision for a Spanish production. Director José Anthony further revised the script during rehearsal to ensure it was accessible to audiences. ¡Bravo, hidalgos!
There are two performances left! Saturday 6/16 at 8pm and Sunday 6/17 at 1:30pm at Las Vegas Little Theatre. Tickets are $12.00.
Muchas gracias to El Mundo for the coverage and Richard Brusky for the photography!