The annual Out of the Wings Festival is on in London 2 July – 6 July at Cervantes Theatre. I have the honor of performing in two of the five readings of plays from the Spanish and Portuguese speaking world. There are translation workshops offered in the daytime before the readings, and post-show events like a 10th anniversary toast at the bar and book releases.
THE WIDOW OF APABLAZA by Germán Luco Cruchaga, translated by William Gregory, directed by Kate O'Connor shows on Wednesday, 4th of July at 7:30pm. It's the 90th anniversary of this classic Chilean play, which was ahead of its time depicting the main character as a wealthy, powerful, ranch owning woman who seeks love with a much younger man.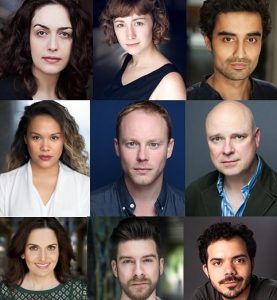 Cast (from left): Lana Joffrey, Alex Vincent, Richard Sumitro, Anjelica Serra, Richard Glaves, Christopher Knott, Gigi Guizado, Richard Stott and Sergio Maggiolo.
It's a delight to reunite with many of the theatre artists who worked so beautifully together on my translation, SYMPHONY FOR SIX ACTORS by Rafael Guizado, for last year's festival. Kate O'Connor is directing again and I'm excited to work with her as an actor this time around. Lanna Joffrey stars as The Widow. (San Francisco will soon be in for a treat when Lanna heads there next for A Thousand Splendid Suns by Ursula Rani Sarma and Khaled Hosseini at A.C.T. July 17–29 freshly transferred from The Old Globe in San Diego. )
Richard Glaves, William Gregory and I join forces for a third time together, after SYMPHONY FOR SIX ACTORS, and CUZCO by Victor Sánchez Rodríguez which premiered at OOTW2017. Kate saw that premiere and will direct the English version at Theatre503 this season! The award winning Spanish premiere in Valencia has also inspired a film version, now in the works.
THE LANGUAGE OF THE MERMAIDS by Mariana de Althaus, translated by Mary Ann Vargas is the festival finale at 7:30pm on Friday, July 6th. It's an honor that the playwright will be joining us all the way from Peru! I'm enjoying being directed by Mary Ann as leading lady Margie, a role that has some similarity to the Widow. I can't say any more without giving too much away…you'll simply have to come see it!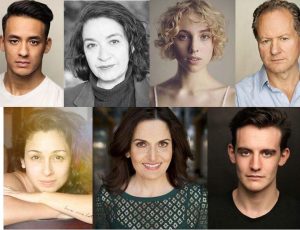 Cast (from left): Liam Lau Fernandez, Mia Soteriou, Tessa Bonham-Jones, William Hope, Chusi Amorós, Gigi Guizado and Andy Buzzeo.