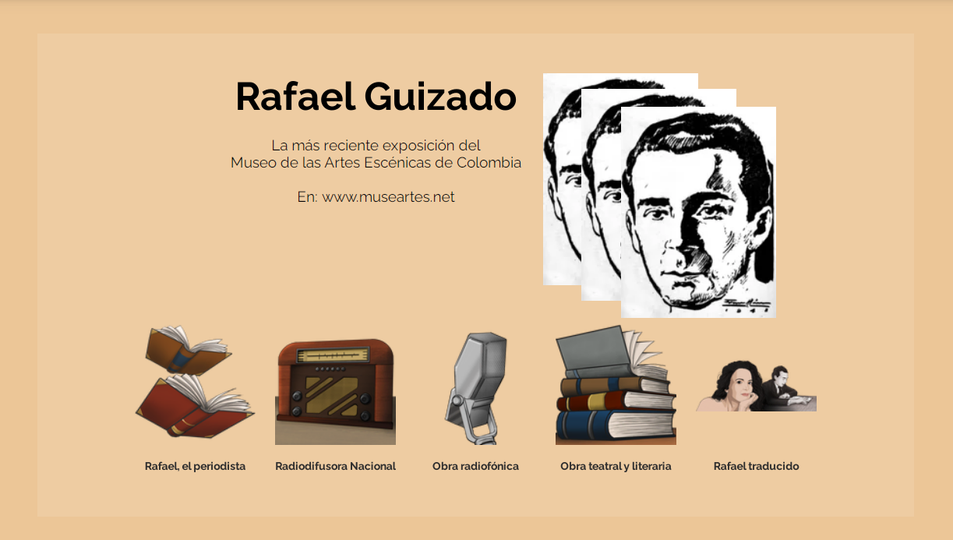 Many thanks to Dr. Marina Lamus Obregón and the Museartes team for this exhibition on my grandfather's life and work. / Mil gracias a Dra. Marina Lamus Obregón y al equipo Museartes por este exposición sobre la vida y obra de mi abuelo.
Tour the new exhibit. Enjoy! / Recorra la nueva exposición. ¡Que la disfrute!
Dr. Lamus Obregón was kind enough to ask me for an interview.  Here is the transcript in English.
I grew up in the United States of America with no connection to or knowledge of my father and his side of the family. Independent from influence, I pursued an innate passion for the performing arts by studying dance, music, acting, and even DJing my own radio show.

My father re-entered my life before his passing, and shared Complemento with me. We read it aloud together. I was shocked to learn that my grandfather had been a playwright and involved in radio. Of course, this connection fascinated me.

Researching the works of my grandfather teaches me things I never knew about my family history, and things I wasn't taught in school about Latin American Theatre History.

Translating him is my way of getting to know my grandfather. It's as if I'm given an opportunity to read his mind by discovering the recurring themes and archetypes in his work. Translating his words is as close as I can get to having conversations with either of them. It is strange, yet fascinating and satisfying.