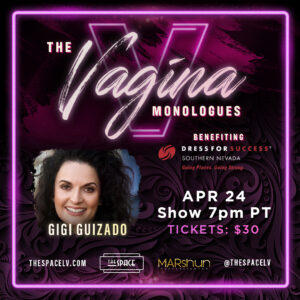 BEE YOUR OWN WOMAN!!
Let's get ready to BUMBLE! Come join our hive at The Space for The Vagina Monologues. 
An Obie Award-winning whirlwind tour of "the forbidden zone," The Vagina Monologues introduces a wildly divergent gathering of female voices. The range of characters each delivering unique insights includes a six-year-old girl, a Bosnian refuge, a feminist happy to have found a man who "liked to look at it," and so much more! 
This year, we are supporting equality, opportunity, and leadership for women. Our show is benefiting Dress For Success Southern Nevada. They have helped more than 7,000 women in the greater Las Vegas area in their efforts toward self-sufficiency.
Also, come check out The Marketplace, a variety of products and services presented by women for women. It's gonna be the bee's knees!
Show Details: 
Sunday, April 24th, 2022
Doors open at 6 p.m. and the performances begin at 7 p.m.
Tickets are $30 and are available online at www.thespacelv.com.