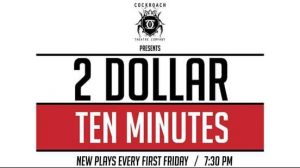 SCHERZO (Dialogue with a Statue) by Rafael Guizado lives on in translation at First Friday Las Vegas. Viva!
On November 4th, this classic Colombian one-act about a political leader coming to terms with his legacy, will be performed several times throughout the evening. Shows start at 7:30pm at Art Square Theatre, presented by Cockroach Theatre Company. Admission is $2.00 per performance.
Starring Timothy Burris as The Man, Natalie Senecal as The Earth, G. Scott Spence in multiple roles, and Sarah P. Robinson in multiple roles; Directed by Lynn Eldredge.
Will the political leader be redeemed? Will his people remember him fondly? Is the play still relevant after nearly 70 years? Does my translation capture Rafael Guizado's signature monologues, sarcasm, subtle humor, and graceful, poetic style? Come judge for yourself.
There are several additional one-acts by local playwrights on the bill as well. Not to mention fine art, crafts, street performers, live music, gourmet food trucks, bars, restaurants, and so much more!
Be there at Art Square.