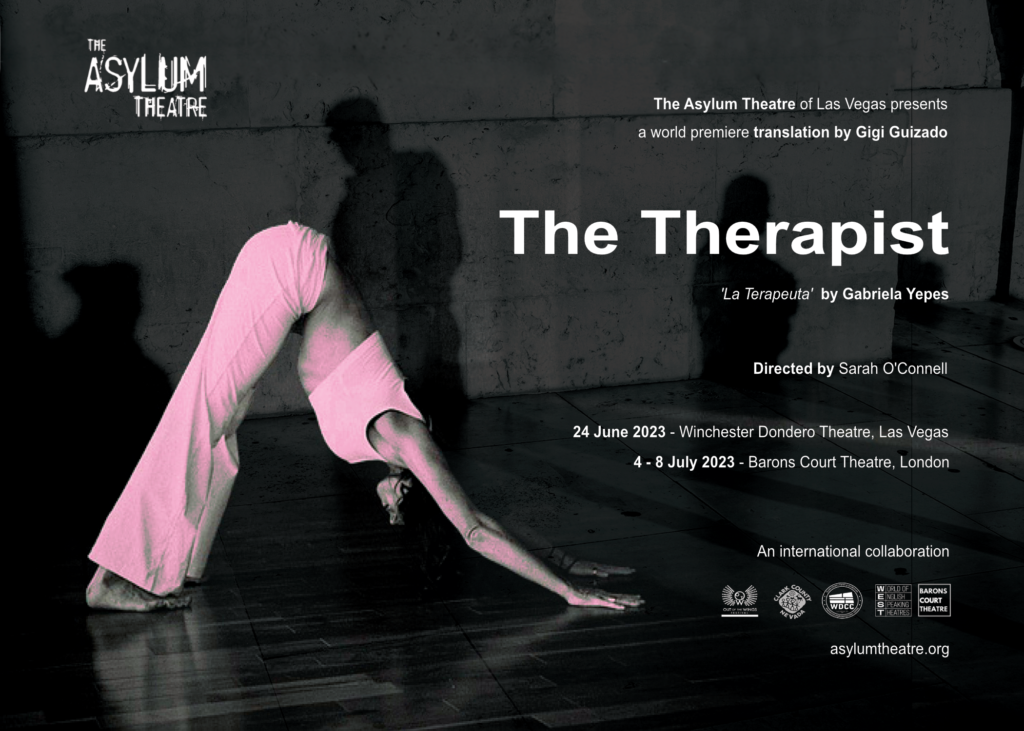 You may have heard me talk about Gabriela Yepes' award winning play, La terapeuta/The Therapist, before. In 2019, the year it premiered in Lima and won Premios Luces Best Peruvian Play, I began translating the script from Spanish to English. Out of the Wings hosted an international online table reading of the developing translation and I continued working on it. In 2021, my translation of The Therapist received a staged reading in Out of the Wings Festival directed by Mary Ann Vargas. In 2022, my translation of The Therapist was published by Inti Press. And now, the first English language production of The Therapist is here!
Produced and directed by The Asylum Theatre's Sarah O'Connell in partnership with Barons Court Theatre, WEST Association, Out of the Wings, and Winchester Dondero Cultural Center, the world premiere will be in Las Vegas on June 24th. Shows are at 2pm and 7pm.
The Therapist will then tour to London, UK for 5 shows at Barons Court Theatre. July 4th – July 8th at 7:30pm.
How do you look the enemy in the eye?
A Human Rights lawyer, accustomed to solving unwanted cases, receives an unusual proposal: to teach a yoga workshop in a maximum-security prison to Peru's deadliest terrorist leaders. All prisoners have the right to rehabilitation. Can those responsible for such suffering change? The Therapist is a settling of accounts with past demons, taking us back to when violence stalked her country, and her home.
Oh, and one last detail: The Therapist is a one-woman show…starring me! I hope to see you in the audience!